Next up in our series of March interviews is Kelly Fig Smith! Kelly talks to us about using poetry as a means of working through writer's block, the important power held within the hands of teachers, and the process of being brave. Read on to find out more about this nonfiction alum!
KELLY FIG SMITH – NONFICTION, JUNE 2018
Interviewed by
Julia Leef
What was the moment in your life when you knew you wanted to be a writer?
I've wanted to be a writer for so long that's it hard to pinpoint a beginning. There seems to be a very narrow gap between a very young me, who wanted to grow up to be a horse, and the slightly older version of me who dreamed of becoming an author.
I was writing stories even as an elementary student. And I was fortunate to have a wonderful fifth-grade teacher, Mrs. Byrum, who was relentless in her encouragement. She acted as if each story I gave her was the single best thing she'd ever read. Mrs. Byrum still inspires me today in my work with young students. I believe, even when a student needs some guidance and instruction on their work, there is always something positive to say, always an opportunity to build them up. There is enormous power held within the hands of teachers. Mrs. Byrum certainly used her power for good.
However, as a first-generation college student, I told myself I needed to major in something more grown-up. More responsible. So, I majored in accounting (can you get any more responsible than that?) and spent a great many years of my early adulthood trying to forget I'd ever wanted to be a writer.
Still, despite my resolve to ignore the dream or to cast it off as a foolish whim of my youth, when I, at last, experienced real grief in my life, I turned to the page. The page, of course, had been patiently waiting on me to find my way back all along. But it did take some time for me to claw my way back–to even agree to look the dream in the face again. So it began tentatively–as journal entries–which led to a half-hearted application to the Kenyon Writers Workshop, which led to a publication, more publications, and eventually an MFA at Lesley University.
In your author bio you describe yourself as "an essayist and wannabe poet." Have you done any exploration into poetry since you graduated in nonfiction? What draws you to poetry over essays, and vice versa?
I've always loved poetry. In my work, when I'm feeling blocked or stuck on an essay, I pop open a book of poems and just try to marinade in language for a bit. I think this works because it has never felt competitive. What I mean is, as a prose writer, when I'm stuck and then go off to read other prose, all I can think of is, oh my how good so and so is, or how good that sentence is, and this usually leaves me feeling even more despair that I'll never get my prose quite right. But because, traditionally, I haven't written much poetry, it has felt like a safe place to land when I'm tied up in knots.
Ironically, it was Lesley poets, dear friends who'd graduated just a couple of years before me, who, upon hearing my graduation reading, told me that my work heavily relied on a lot of the same elements as poetry. "You're a poet," they said. "You're one of us". And I've honest-to-goodness never been more dumbstruck in my life. They could just as well have told me I'd won the lottery and I wouldn't have been more speechless.
So, similar to my original tentative beginnings, I've been tiptoeing my way into poems. It is not without a lot of trepidation and self-doubt, but I've had wonderful guides in both Michael Mercurio (who kindly offered to do a one-on-one mentorship with me) as well as Eileen Cleary, who invited me to participate in Lily Poetry Review's Poem Clinic this past summer. Through the clinic, I've met some delightful and inspiring poets with whom I hope to stay in contact. And as a result of that poem clinic, I'm about to publish my first poems with The Lily Poetry Review.
So, yes, I very much still feel like a wannabe poet, but I imagine Imposter Syndrome is something a great many artists have to battle every single day. Perhaps adding wannabe before our descriptors lessens the fear that we'll be found lacking. I imagine, someday in the future, I'll be willing to drop the wannabe bit. But I'm not there yet.
Was there anything you learned during the Lesley MFA program that surprised you, or that changed the way you think about writing?
You know, nonfiction is tricky. Because when your work is being evaluated in the round, and the professor offers a critique about the narrator, well, most of the time the narrator is you. So, there's just no distance. I'll never forget sitting idly by, my jaw clamped shut, while Kyoko Mori offered a stinging critique of my narrator (me) in which she said, "Doesn't it seem like this narrator is holding something back? Don't you get the feeling the narrator is a person of faith but unwilling to talk about it?" I was appalled and embarrassed. She was, of course, right. I was trying to dance around something I wasn't yet willing to write about. Unfortunately, what we are, and are not, willing to share on the page comes through in equal measure whether we intend them to or not. It was a painful but valuable lesson, and I've always been so grateful for Kyoko's laser eye when it comes to things like that. She will cut you to the quick, but it will be exactly what you (and the work) needs. She's a laser. She's fantastic.
What is something that gets in the way of your writing and how do you overcome it?
Me, over and over again, it's me. My inability to give myself over to the work, to make time for it. I have all sorts of excuses: being a mother of four, homeschooling two children, running a household, adjunct teaching. You name it, I've used it as an excuse. And it's true, all those things require time. But there are still hours in the day I could be giving to writing. In the end, it always feels like I have to start over again in terms of setting up a writing practice. And the way I start over, every time, is by beginning with morning pages. Every morning, I free write in a word document (which is now novel-length). Eventually, this leads to an essay, or sometimes a poem. But I can't start cold when I haven't been writing consistently. I can't just sit down and say, ok, today I'm going to write. I have to ease my way back in, and freewriting has always been a safe place for that. In short, I'm like a skittish deer, ready to dash away at the least hint of danger. So, I've got to be gentle with myself.
Who are you reading now or who is next on your 'to read' list?
I've just finished the novel Call Me By Your Name by Andre Aciman which devastated me. It seems I'm destined to enjoy stories of ill-fated love. For some reason, I'm obsessed with tragic romances, with their acute pain and despair. It's like I'm destined to read Romeo and Juliet over and over again, all the while expecting a different ending.
And on my to-read list is a little book of essays titled Why Fish Don't Exist: A Story of Loss, Love, and the Hidden Order of Life. I mean, that title alone, right?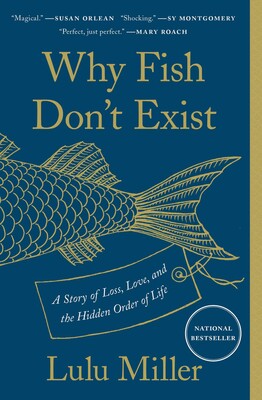 Are there any projects that you're currently working on?
I have been trying to finish a book of essays since I graduated from Lesley. Truthfully, it's 90% done. But if we're being honest, it's the last 10% (in all areas of my life) where I flounder. If I were to use an analogy, I might tell you about the time I (mostly) ran a 5K race with my friend Sarah. When we were nearly at the end and could see the finish line, she took off like a bullet from a gun. I, on the other hand, looked ahead, saw the finish line, and thought yea, I've probably done enough. I'll just stop here.
So, I'm trying to work on that, on finishing strong. It is not easy for me, and I know that, in terms of my manuscript, much of it comes down to the fear that, once it is done, it will be time to see if the thing has legs enough to make its way into the world. In the end, I suppose the fear of rejection never goes away for artists. So, I'm working on being brave. It's a process.
Listen to Kelly read her essay, "Winter Soliloquy":